Ace Of Hearts Brazilian Music
Click on the link to hear a sample.
The Los Angeles Choro Ensemble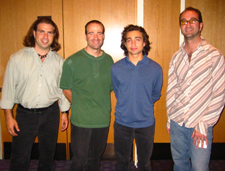 Formed in 2001, The Los Angeles Choro Ensemble has performed at a variety of events in Southern California. from U.C.L.A.'s Royce Hall to the Silverlake Conservatory of Music, they have brought the upbeat and melodic sounds of Brazilian Choro Music to L.A. audiences.

Choro music evolved in Brazil in the 1920's as a style of instrumental music combining the improvisatory spirit and energy of early jazz with the melodic sophistication of classical chamber music. Underlying and uniting these elements is the pulse and rhythm of the Samba. It has inspired generations of Brazilian musicians from Villa-Lobos to Jobim.
The Los Angeles Choro Ensemble features authentic Brazilian acoustic instruments such as the pandeiro (tambourine), cavaquinho (similar to the ukulele), violão sete cordas (seven-stringed guitar), bandolim (mandolin) and violin.

The Los Angeles Choro Ensemble:
Ted Falcon—Mandolin, Violin
Edson Gianesi—Pandeiro
Colin Walker—Guitar
Pablo Regis de Oliveira—Cavaquinho
Leticia Meza—Percussion
---
You will need the latest version of Quicktime.
You can get the latest version at:

QuickTime
For more information about
Ace Of Hearts Musical Entertainment,
please contact: Michael Greenfield
Telephone: (310) 836-4787 or Fax: (310) 773-9228