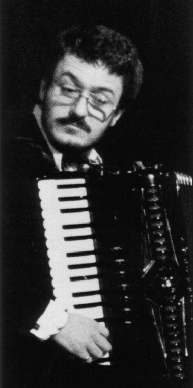 Nicolas, a recipient of many awards, is recognized as a concert artist and composer of international prominence. His performances and compositions contribute immeasurably to raising the status of the accordion through the promotion and presentation of chamber concerts, solo recitals, and orchestra appearances. Equally proficient in musical styles ranging from the great classics to modern contemporary, ethnic and jazz, Nicolas has won accolades from noted composers, conductors, and musicians alike. Ariando, a member of several composers' organizations and director of THE NICOLAS CHAMBER ENSEMBLE, has received grants from various funding sources including:

* Patroness Mrs. Betty Freeman
* The National Endowment for the Arts
* The California Arts Council
* The White Light Foundation
* ASCAP
* The Beyond Baroque Foundation
Numbered among Ariando's professional appearances, are many performances for radio and television. His versatility also includes technical expertise on piano and electronic keyboards. Nicolas received his Master of Arts degree in performance and composition from CSULA.
A pioneer in his field, Nicolas continues to inspire audiences while exploring new avenues and innovative techniques through his music.